When it comes to choosing the best blog camera it takes hours of research, tons of knowledge and can be a little overwhelming. After three years of learning, creating, and trying different cameras, gear, computers, and travel camera accessories we think we have finally found the most Minimalist travel photography gear that works fantastic for Video as well. Here is everything we carry in our camera bag.
Best Blog Camera And Lenses For Travel Photography And Videography
Not all the gear we list below is required. But when it comes to How to make money from travel photography and videography it is easiest with the correct gear.  After being in just about every situation you can imagine we feel that all the gear we carry allows us to be the most prepared to get nearly every shot we want.
Sony A7iii
The Sony A7iii is our go-to Blogging camera and Photography camera. It allows us to get the best quality even in very dark or harsh environments. When we originally started blogging and vlogging we used a Canon 70D DSLR. It was big, very bad in low light, and just not as functional as we wanted. We are very happy we switched to this mirrorless camera. Sony full-frame cameras are very well known for being able to shoot with extremely high ISO, this paired with the best travel photography lens allows you to shoot in extremely dark situations without losing quality. 
Sony A6600 
The Sony A6600 is Tah's new camera. It's an incredible crop sensor Blog camera that has in-body stabilization and when paired with the 10-18mm OSS stabilized lens it allows you to get very smooth shots in even the most ruff situations. The reason we have this vlog camera as a secondary camera is because of the key features it has. If you Travel like us it's best to have a flip-up screen, external mic input, In-body stabilization, and make sure your camera has a weather-sealed body, this camera has them all. The only downside to the camera is that the microphone mount is in the middle of the flip-up screen. Otherwise, this would be the best vlogging camera in 2020. This really isn't an issue when you have a SmallRig cage on it. With this little cage, it allows us to relocate the microphone to a place where it's not in the way.
Sony RX100V
The Sony RX100V camera is used as a backup camera or as a small point and shoot camera when we go places that we don't want to carry the large cameras. We love the quality and size of this camera. The only reason we don't use this Blog camera often is due to the microphone picking up all the background noise as well as your voice. This is a great vlogging camera for beginners but the microphone is the main reason we upgraded Tah to the Sony A6600.
Insta 360 One X
Times are changing, content is developing and things are moving faster than ever. If you don't adapt to the changing times you will be left in the dust. With that being said 360 isn't new but it's new to us so we were lucky enough to get our hands on the Insta360 One X and absolutely love it. When it comes to editing its very different and a little more difficult but it adds such a unique touch to video and photo that it's worth it
GoPro Hero 7 Black
GoPro Hero 7 Black is the only waterproof action camera we have. This comes out when things are going to get really messy and we don't want to risk ruining our other cameras. It's fully waterproof and very durable. You can take this camera almost anywhere with no issues, some people even use this as a cheap vlogging camera.
DJI Mavic Pro 2
Drones are changing so fast and so are the regulations against them. Although certain places require licenses now we don't travel anywhere without our drone. Having a drone allows you to get a perspective on each location that is very unique. Make sure you are up to date on the regulations for each location you're traveling. 
Consider this – DJI did just come out with the Mavic Mini, this is under the weight limit so it allows you to legally fly in the USA and Canada without a permit, sneaky, sneaky.
What Blogging Camera Should I Get If I'm Just Starting Out?
If you're just getting started and you're looking for a good camera I would highly suggest either the Sony A6600, A6000, or the RX100V. Me personally if I were to have to start over and buy my first Blogging camera I would buy the Sony A6600. It has all the features you could want and allows you to really learn about the best camera for travel blogging while not limiting you at all. It also allows you to really grow as a photographer and try all the best travel photography lens.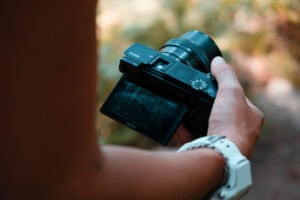 Lenses For Travel Photography and Videography 
We only carry three lenses in our camera bag. Between these three lenses, we can get almost every shot we want. The wide Landscape shots, the zoomed-in portrait and detail shots, and the wide yet stabilized vlogging shot.
Sony 70-200 F2.8 GM
I have this conversation with our friends all the time. They always ask "why would you ever want to carry that thing around?" My response is always the same. The Sony 70-200 allows us to cover tons of different focal lengths in one lens and also allows us to get that super up close and personal shot without having to be in someone's face with our camera. 
Sony 16-35 F2.8 GM
Before we had Tah's A6600 we needed good quality lenses for travel photography and Videography. The main lens we used for vlogging and Wide-angle Photography on the A7III was the Sony 16-35 2.8 GM. This high-quality glass does come with a high price tag but it also offers you the best quality you can get from your camera. 
Sony 10-18 F4 OSS 
The Sony 10-18 we use for Vlogging on the A6600. It's great because not only is it super small but it also comes with stabilization so when paired with the in-body stabilization you can get a really smooth, wide, crisp shot without having to worry about carrying around a big lens and camera.
I can say this, glass (lenses) is not something you want to be cheap on. If you're looking for cheap lenses you will get cheap quality. You do have some options if you want budget-friendly lenses like a nifty 50 (50mm F1.8 Prime lens). Some prime lenses can be affordable and very good but make sure you read reviews before purchasing. 
Waterproof Camera Bag
Having a Waterproof camera bag makes sure all that expensive gear you have is protected and safe in all situations. Although our ThinkTank isn't 100% fully waterproof they do come with Waterproof, heavy-duty Tarpaulin base and Weatherproof zippers and materials. They both have rain covers that allow us to keep them dry in even the worst situations. We carry two camera bags with us. This allows us to carry some extra stuff and keep each bag as small as possible.
PHOTOCROSS™ 15 BACKPACK
This is our everyday bag that stores almost all of our main camera gear and accessories. The extra-large side panel allows us to get to our gear super fast like the Best camera sling bag and makes it very convenient while on the road. These think tank bags are extremely durable and the only bag we trust to carry all of our gear. 
RETROSPECTIVE® BACKPACK 15
This is Tah's go-to camera bag for its super unique design but yes very safe and durable. As she says "It allows me to be fashionable and safe all at the same time". It has a top pocket under the flap for quick access and back panel access for ultimate security. The Canvas is treated with DWR to repel the elements and includes a rain cover.
Between these two bags, we fit everything we need including two 15 inch laptops, chargers camera, and everything else in this post. When we go out for the day we just have a hard choice to make, which bag do we want to use for that day.
Travel Camera Accessories
Travel Camera Accessories are essential to not only help you get the perfect shots but also protect your equipment. These are all the extra things we carry in our bag.
Godox V860ii Sony + X1T S Trigger
The Godox V860ii is a new addition to our camera bag. This Godox flash is something we need to really learn how to use more but when it comes to photography, lighting is everything. Without light, you don't have Photography. With light being so essential we carry this flash with us for when we need it.
Luma Cube Panel Go
While the flash helps for lighting in photography we also carry the Luma Cube Panel Go for when we are shooting video. This light is dimmable and also allows us to change between cool and warm tones of light by the click of a button. Being an LED its super light, thin and also works as an external battery. This helps when the lighting is not perfect and you need a little brighter situation or add a creative touch to the shot.
Energizer Vision HD LED Headlight
Sometimes you find yourself hiking mountains or walking down dark paths after sunset or before sunrise. Carrying a flashlight is a pain in the butt, that's why we have this headlamp. It allows us to have our hands free and still get good light. Plus it can add a cool touch to some photos.
Shure VP83
The Shure VP83 is the main microphone we use for vlogging and the Blog camera. It's powered by a single AA battery but still has a very small compact size. This shotgun mic is great for noisy situations and really helps us produce the highest quality sound in the most compact package.
Rode VideoMicro
VideMicro is our backup microphone and allows us to get decent sound on our second camera. It's not great in really noisy situations but it's very compact and very cheap. It's a great starter mic to help you get better sound than the onboard microphone.
Polar Pro ND8/PL
The Polar Pro Neutral Density filter allows us to get the best quality out of our camera in very harsh light. It screws onto the front of the lens with an 82mm thread. It's basically like putting sunglasses on your camera.
Fotodiox Metal Step Down Ring 82mm-77mm
Because our Sony 16-35 2.8GM is an 82mm thread for the ND filter and the Sony 70-200 2.8GM is a 77mm thread we use this step-down ring. It allows us to only buy 1 ND filter but use it on both lenses. Considering the Filter is $199 USD and the step-down ring is only $9.95 I think it was smarter to buy the ring.
Leather Half Camera Case
We have these half cases on all our cameras. Sony is a great camera but if you use the cameras as much as we do the paint tends to rub off the bottom and sides. With these half cases, it not only keeps our gear protected but keeps them looking brand new.

Geekoto 77" Tripod
For all the Couple travel photography goals you need a tripod, right? Well, this is a very lightweight yet durable tripod at a very affordable price. This is the only Tripod we carry with us and it works great.
GoPro Bite Mount + Floaty
You can't have a GoPro and not have the mounts. We only carry two mounts with us in our camera bag. This mouth mount comes with a floaty, but we also put a leash on it so if it somehow doesn't float we don't want to lose our GoPro.
Professional Water-Resistant Anti-Shock Holder Storage SD SDHC SDXC
When it comes to storing our SD cards we make sure they are kept extra safe until we have time to unload them and back them up. We carry all of our SD cards in this water-resistant anti-shock SD holder.
Sony TOUGH-G series Card 64GB
Over the years we have had tons of issues with SD cards breaking lock pins falling out and them becoming just unuseable. That's why we completely switched to Sony's Tough SD card. They're extremely durable and extremely fast.
GoPro The Handler(Floating Hand Grip)
This is the other GoPro accessory we carry with us. It allows us to carry the GoPro in our hands with a leash around our wrist. If it somehow falls off in the water it also floats.
Insta360 Extended Edition Selfie Stick
This is the world's longest quality selfie stick but with its carbon fiber build its super lightweight and design specifically for the Insta 360. This allows you to get really far away 360 shots and is the perfect pair for the 360 One X camera.
Extra Blog camera batteries
You can buy all the best cameras in the world but if you run out of battery you are in some serious trouble. Make sure you buy extra batteries for all the cameras you plan to buy. 
Pro tip: Don't buy fake knock off batteries. They don't last long and are a waste of money. You are better off saving up money and buying real Manufacture batteries from the camera company.
Peak Design Leash Camera Strap
For each camera, we have Peak Design Leash Camera Straps. These are quick release straps that allow us to quickly take our camera straps off, put them on the tripod, and put the straps back on. Old school straps are a pain and take super long to get on and off. This is the best option to save time.
Laptop & Editing Software for Adventure travel photography and Videography 
Apple Macbook Pro 15 Inch
We each have one 2013 Macbook Pro from Late 2013. These have retina displays and are actually pretty fast. I think we will be upgrading soon but for the amount of money you save buying this computer used it works great. 
Bose SoundLink Around-Ear Wireless Headphones II
These Bose headphones are the ones Tah uses for all video production with Divert Living and Optimum Influence Media. They are lightweight noise-canceling and provide the most realistic sound quality. When you edit with the headphones on and then listen to the video without the headphones it sounds almost identical. This was one of the best investments for Post productions.
SanDisk 2TB Extreme Portable External SSD
What is beneficial about having the best camera for travel blogging if you can't save anything you shoot? This is one of the most important aspects when it comes to How to make money from travel photography. You need to always make sure you have your files saved correctly and backed up. With this SSD you are less likely to lose footage due to a hard drive crashing and you have the most compact way to save your files. 
Ceptics World Travel Adaptor 
After trying all sorts of different travel adaptors Ceptics is by far the best one on the market. Not only can you safely charge all your devices at once, but you know that if there is a surge you won't ruin any of your devices. With the voltage light, you know the exact amount of power you are getting and comes with every adapter you could need. 
First Aid Only 298 Piece All-Purpose First Aid Kit
Last but not least. Always make sure you are safe! No matter where you are going you want to make sure you're prepared for the worst situation. This is why we never travel without a first aid kit in each camera bag. This 298 piece kit has almost everything you need for all first aid situations. 
We hope that this provides you with all the information you're looking for. This is everything we have in our camera bag and everything we use for most of our shoots. If you have any questions feel free to ask them in the comments below. Safe travels!
Love Jimmy&Tah
**PIN IT FOR LATER**