Both Chiang Mai and Bangkok are among the most picked places for those who travel to Thailand. But what you need to keep in mind is that even though so many travel bloggers or Vloggers say they love Chiang Mai or Bangkok, It does not mean that you need to love both of them or travel there just because of that reasons. These 2 cities can pamper you in a totally different way. Also, sometimes life work in the way that you have to select one over another. So this post is designed for those who have time constraint or those who have budget constraint which force you to pick only one destination while traveling in Thailand.

Where is the best weather in Thailand?
According to the World Meteorological Society, Bangkok has some of the hottest year-round temperatures in the world. Even winter in Bangkok can be on average of 79° Fahrenheit. Chiang Mai, however, sits at a higher altitude than most cities in the Thailand, with that being said, it is less humid so it feels way cooler. On average, Chiang Mai is about 78° Fahrenheit, with the temperature dropping to as low as 72° Fahrenheit in the winter(during the day). It is still hot but not the way Bangkok is.
Transportation in Thailand
If you love riding motorbike, we will recommend Chiang Mai over Bangkok as Chiang Mai has lighter traffic condition which makes it certainly less terrifying to rent a motorbike and zoom around the city. While Bangkok traffic condition can be very terrifying. also, it's way more chill to ride and enjoy the relaxed pace of Chiang Mai.
Walkability : Chiang Mai is definitely more walkable, it's easier and more pleasant to kill time by wandering around due to less pollution and smog and weather being more generous compared to Bangkok.
Ease of getting around – Considering the coverage of public transportation such as Subway and Skytrain, getting around Bangkok can be very easy, using the public transit helps you avoid traffic in most cases. It's also very easy to find motorbike taxi and taxis in Bangkok. While in Chiang Mai, there is no skytrain or subway system. However, in Chiang Mai you can take 'Rod Song Teaw' which is really unique local way to get around and cheap as well, On average they charge 20 baht, it can be slightly more depend on where you want to go. For traffic condition, in Chiang Mai, it's way less crazy compared to Bangkok but the central city can have some traffic jams around the various major area like malls and markets.
If you are thinking of heading to Bangkok for your Honeymoon Make sure you check out how to make the most out of this amazing city.
Things to do in both cities
Nature : Chiangmai definitely has tons to do. It especially has more nature scenery and landscape and is especially well known for mountains trips, with that being said, nature lover and adventurous seekers will surely love Chiang Mai better than Bangkok. For Bangkok, it's well known as the lively, chaotic city with less green space compared to Chiang Mai unless you go to some parks, some temples, or You need to commute further for nature in Bangkok.
Party : Bangkok has a more more lively and wild party scene together with more variety of nightlife to go for. However, Chiangmai is slightly more dull and more laidback as compared to Bangkok
Shopping : Both are great for shopping but it also comes down to what you are looking for in terms of shopping. Honestly, Bangkok is great place if you want some designer copy clothings and such. If you personally love shopping for Thai-handmade, hand craft items, beautiful home items like pottery and art. All of these are far better in Chiang Mai. Also, if you are the type of person who just want to wander around many different markets to feel different vibe, you will love Bangkok as there are way more markets with different purpose compared to Chiang Mai.
Nightlife : If you want something wild and loud then you will love Bangkok. Also, in Bangkok, there are some of the best places for one of the most impressive skylines in the world. Nightlife in Chiang Mai is generally way more chill and calm. Bangkok has a more more lively party scene.
Variety of Activities : We both have the same opinion that Bangkok has so much to see and do. Everything from very traditional Thai to very modern westernized atmosphere. From Bangkok itself, You can also easily do day trip to Ayutthaya to see ruin old capital of Thailand, or Kanchanaburi for more nature if you wish. In Bangkok it's impossible for you to feel landlocked as you can take short trips to nearby beaches, including Koh Samet, Koh Chang, Or you can even take a trip to the beach town like Hua Hin, Cha Am and way way more. Some beaches can be reached in as little as two hours by bus or van, so you can easily escape from the concrete jungle to the beach. While in Chiang Mai, situated in Northern Thailand, it might give you more of landlocked feeling, however Chiang Mai is way more relaxed.
If you are looking a nice relaxing ride through northern Thailand done miss the Mae Hong Son Loop
Learning the Thai Culture
For Thai culture, either it be in Bangkok or Chiang Mai, the culture of the country is mainly influenced by religion which is buddhism. You can notice Thai culture in several forms in both cities. While Bangkok has worthy points of interest for culture but we think it's in Chiang Mai's where you'll find the more traditional, culturally rich Thailand. Even though Chiang Mai is similar to Bangkok in the aspect that the city has been through urban development with the rise of apartment, buildings but you can still notice Thai roots and Uniqueness better than in Bangkok. Wandering around both cities, it's common for that you will also see many outside elements or spirit shrines, together with some Hindu practices and traditional Chinese beliefs that has influenced local beliefs to an extent. If you love seeing temple, In Bangkok there are more than 400 temples to explore, while in Chiang Mai there are over 300 temples to explore so you won't really feel disappointed in either place. Both are amazing, in Bangkok, most major temples gives us the feel of them being so magnificent and gigantic. While in Chiang Mai, the vibe is way more relaxing.

Best food in Thailand
What you need to know is that food in Thailand can be drastically different from region to region. For example curry, it can be less spicy in Northern part of Thailand like Chiang Mai compared to the other region like Northeastern or Southern Thailand. If you are seafood lover, you can expect to pay more compared to Bangkok and from what we experienced, they can be a bit less fresh and lack in option or variety due to the geographical location that Chiang mai is pretty far from the sea.
Variety of food : Due to the reason that people from all over thailand tend to relocate to Bangkok for job opportunity, therefore, you can find a great variety of delicacy dishes from all over either it be from Northeastern style or so called Isaan Food, Southern style and more.
In terms of Street food, One obvious difference is that Chiang Mai is way more organized than Bangkok, Speaking of being more well-organised it comes down to The presence in street food. In Bangkok, you can expect to see more numbers of street food cart, street vendors are packed and scattered almost every corner compared to Chiang Mai. Chiang Mai got its specialty in food, while in Bangkok it's more like the mix of everything. In Chiang Mai the main delicacy is Khao Soi which is creamy and slightly spicy yellow curry dish originating in Northern Thailand. A bit Similar in profile to muslim-influenced Massaman curry pastes, And Sai Auo which looks like the sausage but the flavor is more in herb.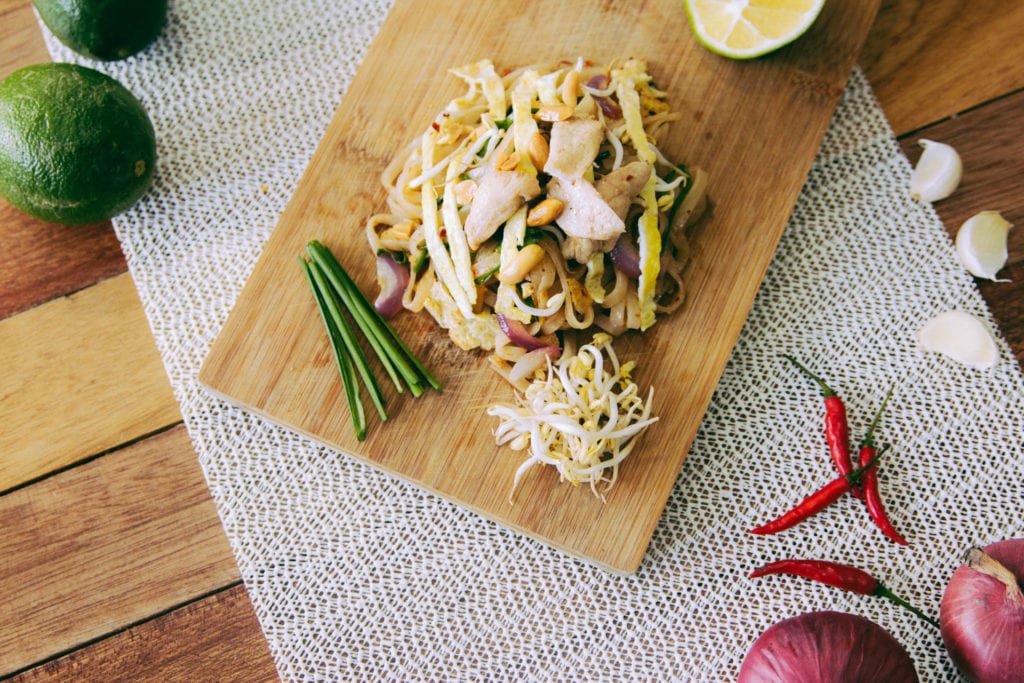 We would love to hear your opinion on this as well, What place would fit you best? Bangkok or Chiang Mai? Let us know in the comment below and also what else did we miss ? You can leave your question in the comment below. If you are planning to travel to Thailand and hesitating about destination whether it be Chiang Mai or Bangkok, try asking yourself some questions like how do you wanna feel while traveling and what do you want to do. We also created a FREE checklist covering those question for you to help you decide better. Especially when you have limited amount of time to travel or limited budget that force you to pick only one destination. However, If you are not limited by either time or money constraint. We will highly recommend you to see both Bangkok And Chiang Mai, even both are in Thailand but these 2 cities can pamper you in a totally different way.
If you decide to go to Chaing Mai and want the best budget-friendly luxury hotel check out the White Boutique Hotel