Traveling Thailand can be the best trip of your life, especially if you are well-prepared for it. Thailand has everything you could want to do from beautiful beaches and amazing snorkeling to culturally rich jungle or mountain get aways. There is no shortage of things to do or see and with the right knowledge, your trip can go as smooth as you dreamed it would, just make sure you follow these simple tips.
Respect the Thai culture
This is the best way to avoid being awkward, or even worse, having trouble with locals. In Thailand, the religion is predominately Buddhism. Most are very strict when it comes to customs and beliefs related to religion. This was very hard for me as a westerner to get used to at first, particularly when i arrived Thailand as first-timer. There were things i needed to learn. I first handedly saw how strict it was due to the fact that Tah is Buddhist and she avoids hugging in temple.
Also, when it comes to culture value, there are some very common things that might seem simple to them but less common to us. Don't touch or point at things with your feet. Pretty understandable but i have seen tourist use there feet to point at items for sale on the street. At that moment the local got very upset. Also if you are going to be buying things from the streets or venders make sure you don't argue with people when it comes to negotiating. Thai people do not like confrontation. Especially being defaced or devalued. when you go for shopping for example, negotiation is ok but when you start raising your voice is when you will start having problems. Don't touch someone else's head. Thais look at the head as the most sacred part of someones body so to touch someones head is very disrespectful especially when that person is older than you.
Another thing that is really looked over when being a tourist is 'Thais are very conservative people' so don't walk the streets in a bathing suit or very skimpy clothes, you will get looked at crazily as that is not the norm among Thais. If you are at the beach or a pier this is normal but when it comes to being in Bangkok and it's hot outside please keep your clothes on no matter how much you want to sunbath at the park.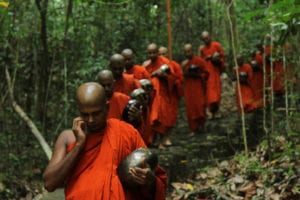 Is street food in Thailand Safe?
Many people have a lot of questions about the street food in foreign countries. I think in Thailand especially, the street food is amazing and you really don't have much to worry about. Thailand is the land of amazing and spicy street food and i suggest you eating as much as you possibly can. I know i sure did!
If you are really worried i would suggest just looking for stands and places that have high amounts of traffic. This is because at that point you know the food isn't sitting around all day waiting for you. Trust me if people were getting sick from eating there, there won't be that much of traffic at that street food stall. Some of my favorite dishes are the Num Tok (Extra Ped Ped). Nam Tok is basically Beef Salad and Ped Ped means extra spicy. Basically you can get Nam Tok at the Isaan Style Thai food where thy normally sell papaya salad. Make sure you say 'Mai Ped' if you want it to be not spicy. Thailand has so many amazing dishes to try, everything from amazing fresh fish and soups to the best papaya salad you will ever taste.
If you are looking to travel around the beautiful city of Bangkok make sure you check out some of the best hotel picks for your stay there.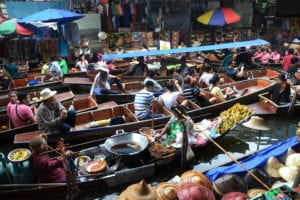 Elephant tourism in Thailand
This is a big issue in a lot of countries in Asia but especially in Thailand. The countries sacred animal is the elephant and what happened is some of the locals have captured wild elephants and are now using them to generate and income with tourism. The main thing is in order to get the elephant to listen to the trainers they go through a very cruel and horrible process of breaking down the animal in order for them to do certain activities to earn money. They make them do things like paint pictures play with circus balls and let people ride them.
What i would suggest is telling all of your friends and family traveling to stay away from this process. We don't want to be funding the people that are harming these beautiful animals. This doesn't mean you can't still see them though. Just make sure you go to an elephant sanctuary. These are mainly located in the northern parts of Thailand and they really care for the animals. Make sure you do your research and pick one that really takes care of them. This is where you can bath with them feed them and be around them. It really is an amazing experience to be able to see these animals being so well taken care of.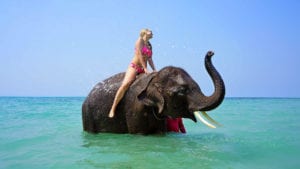 Best nightlife in Thailand
We all have heard about Thailands nightlife, It can get pretty crazy to say the least. From Bangkoks famous Kao San road to Phuket's never ending full moon parties you will always have an interesting time. What i would suggest for you, if you are very interested in nightlife and love to party is stick to the beers. A lot of times when you are in these party spots and they are offering you the buckets of liquor for 90 Baht. Honestly thats really cheap and the buckets are huge. They are made with homemade Thai whiskey. Just like many Asian countries the home made liquors are strong and cheap. In Thailand the Whiskey isn't as bad as Indonesias Arak but it can still be very potent. This can cause a really really ruff next morning. So when we travel we like to stick to bottled beer. Something we are opening and something with consistency
What not to pack for Thailand
Alright so now you know some key tips on how to get threw your trip but now it comes time on what do i need and not need for the trip. Well i'm not going to go through them all but some of the key things i would suggest is don't over pack. If you are an average size person then clothes will be super cheap. If you are doing north in the Winter months then make sure you pack warm clothes it will get cold in the north. If you want to know more specific information on packing essentials you can check the checklist as well as the video below is a break down of all the packing essentials.
All in all, have a great time on your trip in Thailand, just keep some of these simple things in mind when traveling. If you want to check our FULL VIDEO GUIDE we have that on out YOUTUBE CHANNEL showing you and in depth guide to all the best and even some of the most unknown local spots!
IF you are planning a trip make sure to check out our Must know and travel essential Packing list that is completely free! DOWNLOAD IT HERE