Since years, Seoul has been an ideal hideout for food connoisseurs from every nook and corner of the world. There are food stalls in almost every corner of the city, however, a major chunk of food joints are located in Hongdae region. So the question is what to Eat in Hongdae? Hongdae is a popular social hub with tons to do you'll not just get to see the amazing restaurants and street stalls, but karaoke rooms, pubs, bars, dance clubs, and much more. You can say, Seoul's nightlife is nothing without Hongdae and Itaewon. Talking about the food, well, as I mentioned there are hundreds of street food stalls and restaurants that serve some of the most delectable Korean street food. Whether it's your first trip to Seoul or have visited a number of times, Korean food is one such thing that will draw you to this place again and again. Let's have a look at what to eat in Hongdae so you can savor the flavor at this popular hangout spot in Seoul. 
Samgyupsal in Hongdae
Samgyupsal is basically the grilled pork belly BBQ. It includes thick slices of seasoned or unseasoned pork belly meat which is grilled over a hot plate of the metal grill. However, in some places, you also get various seasonings. It is really a great party food. The dish tastes heavenly good when you eat pork belly with green onion salad, garlic, and ssamjang in a fresh lettuce leaf. This is only one of the good places to eat in Hongdae.
Where to Eat: Palsaik Samgyeopsal
Location: 18 Baekbeom-ro, Daeheung-dong, Mapo-gu, Seoul, South Korea
Operating Hours: Sunday to Saturday from 11:00 AM to 11:00 PM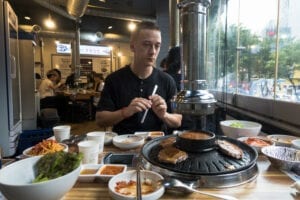 Spicy Korean Ramyun Topped with Processed Cheese
I agree Ramen is one of the most common foods that you'll get to savor in almost every corner of the world. But, Korean Ramen is special in itself. Since there are also American immigrants in Korea (even in Seoul), hence, it is a common practice to serve a hot bowl of Ramen topped with a slice of cheese. On top of that, it is one of the cheapest Korean food to eat in Seoul. The cheese melts and blends with the soupy noodles and gives it a creamy texture. But, only the spicy lovers dare to eat this delectable street food of Korea. 
Where to Eat: Hongdae Dakgalbi
Location: South Korea, Seoul, Mapo-gu, Seogyo-dong, Hongik-ro 3-gil, 32 2F
Operating Hours: Sunday to Saturday from 11:00 AM to 11:00 PM
Korean Savoury Pancake
If you have a soft corner for pancakes, then you would certainly love the Korean style of pancakes. These are made by a special type of rice flour which gives the pancakes more bouncy and dense. Locally known as Pajeon, Korean pancakes are of two kinds – Seafood Pajeon and Green Onion Pajeon. The dish is usually served pre-sliced into little squares. Just pick one with a chopstick and dip in the soy-sauce which is served with it. If you want, you can also try Kimchi along with it which gives a perfect complement to Korean pancakes. 
**If you're looking for more places with amazing food don't miss the street food in Insadong!**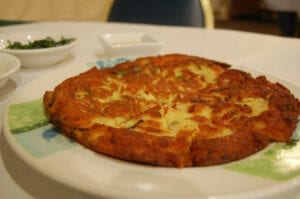 Korean BBQ in Hongdae
Do not make a mistake to compare Korean BBQ with any conventional BBQ. In Seoul, there is a BBQ house in about every corner of the city especially like Jongno-gu, Myeongdong, and Hongdae. There are a number of best BBQs in Hongdae (Choigozip Hongdae, Loco Quan 401 Restaurant, and Hongdae Matjip Cookin Steak Hongdae), thus, it would be a daunting task for you to choose which one to visit. What makes it so special is the fact that you will get to roast your own pork, beef, or lamb on a tabletop stove, interesting isn't it? The experience is indeed an unforgettable one, hence, I personally suggest you go for a BBQ dinner in Seoul. 
Where to go in Hongdae: Choigozip Hongdae
Location:  25 World cup buk-ro 2-gil, Seogyo-dong, Mapo-gu, Seoul, South Korea
Operating Hours: Sunday to Saturday from 12:00 PM to 12:00 AM. On Sundays, the restaurant closes at 10:00 PM.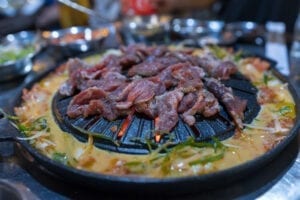 Chimaek
Chimaek is one of the best Korean food to eat but only for adults. It's because Chimaek is a combination of fried chicken and beer. In Korea, both deep-fried chicken and beer together is an eating tradition that has been apart of the Korean food culture scene for a long time. The name Chimaek derives from 'chicken' and 'maeku' which refers to beer in the Korean language. If you want to explore the drinking culture of Korea, then Chimaek has to be one of the must-have delicacies in Hongdae Seoul, South Korea. 
**Interesting fact: Koreans drink twice as much as Russians 😂**
Recommended Place to Eat: Kyochon Chicken Hongdae Store
Location: 371-3 Seogyo-dong, Mapo-gu, Seoul, South Korea
Operating Hours: It opens 24 hours a day
Patbingsoo
After a full meal, it is inevitable to have a dessert and while you are in Seoul, then Patbingsoo has to be the perfect dessert dish it's a must to do in Hongdae. It is nothing but shaved ice. In South Korea, the shaved ice is one of the most loved sweet dishes amongst food lovers. The best thing about Seoul's shaved ice is that the ice which is used in this dessert is not ordinary water but is made from milk. The texture of this ice so thin that it seems you are like milk-flavored snow. It is served with rice cake and red beans and is topped with powdered sesame seeds. 
Recommended Place to Eat: Sulbing
Location: 15 Hongik-ro 6-gil, Seogyo-dong, Mapo-gu, Seoul, South Korea
Operating Hours: Sunday to Saturday from 11:00 AM to 2:00 AM
**If you are going to be heading out to Hongdae for some incredible food don't miss out of the amazing Seoul nightlife!**
Food in Hongdae
This is not restricted to just these delicacies; there are many more things to try that you won't even get to find on any blog. Hence, it is recommended, while on your food tour in Hongdae, be observant and see foods on display. But make sure, before eating anything, you do a bit of inquiry about that particular delicacy. Also, you can ask any local about the popular street food stalls or the famous food of the region. It's the best way to make the most of any food tour.

Your trip to Seoul will not just be restricted to what to Eat in Hongdae, hence, for you, we have also compiled a list of the best things to do in Seoul, Myeongdong and Hongdae. Besides, you can also check out our recommended travel essentials that we ensure to carry on our every vacation to make it hassle-free and unforgettable.
**PIN IT**