In the last post, we discussed the best eats in Hongdae. But, the food tour in Seoul is not just restricted to Hongdae, there are many more places that are just as amazing to visit to try the delectable and cheap Korean food. So what if you ask yourself, What to eat in Myeongdong? Myeongdong is one of those districts in Seoul where you head, without a doubt, to enjoy the much-famous Korean delicacies. The region is quite a popular hangout spot amongst tourists. Therefore, along with an incredible food tour, you can also expect to enjoy shopping in Myeongdong. But, this post is not about shopping, it covers all the cheap eats in Myeongdong that you must try while on a food tour here.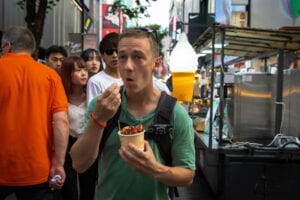 Where to eat in Myeongdong
Hong Kong Banjeom Plus 0410
If you are looking for a cheap place to eat black bean noodles in Myeondong, must-try restaurants in Myeongdong is Hong Kong Banjeom Plus 0410. A bowl of Jajangmyeon, black bean noodles, it is the best dish at this place. The dish is flavor-packed and tastes delectably good. Once you fall in love with this place, make sure to visit its other outlets almost everywhere with the same name. One outlet is also in Hongdae region. 
Approx Cost
3470 Korean Won
Myeongdong Address
14, Myeongdong 10-gil, Jung-gu, Seoul 04536, South Korea
Innisfree Green Cafe
Innisfree Green Cafe is one of the best and the cheapest places to eat in Myeongdong. Opened a few years ago, the place has gained a lot of popularity in recent years. Souffle Hotcake is the key highlight of this cafe. Trust me, these fluffy Japanese Souffle Pancakes are like eating cotton candy. This is probably the best item to eat at breakfast. The bubbly, fizzy sound from these pancakes when you cut them open to eat is another great thing about Innisfree Green Cafe. 
Approx Cost
10,000 Korean Won 
Address
15 Myeongdong-gil, Myeongdong 1(il)-ga, Jung-gu, Seoul, South Korea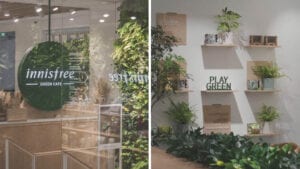 Mom's Touch Chicken and Beer
You would be surprised to know that Mom's Touch Chicken and Beer has more than 600 outlets all over South Korea including places in Itaewon and Hongdae. Now, with these numbers, you can imagine the hype of this place amongst locals. As the name itself says, the restaurant believes in serving the best quality food to their customers (the way mothers serve food to their family). You can expect to get one of the best-fried chicken in Seoul here at this place. They are also known to serve the most delicious burgers, Bulgalbi Chicken Burger being the best out of all. It comes with Cajun French Fries and a soft drink. This meal would cost you around 5100 Korean Won. 
Approx Cost
Burgers range from 2900 Korean Won to 4200 Korean Won. 
Address
26 Myeongdong 8-gil, Myeongdong 2(i)-ga, Jung-gu, Seoul, South Korea.
Yoogane Dakgalbi
If you have been to Singapore, then no doubt, you must have seen Yoogane Dakgalbi there. And if you loved eating there while on your Singapore tour, then you would be amazed to know the outlet is also in Myeongdong region of Seoul. It serves a wide variety of Dak Galbi and the prices are half of that in Singapore. Dak Galbi is a famous Korean food made by stir-frying diced chicken in a gochujang-based sauce with sweet potatoes, scallions, cabbage, rice cake, and other ingredients. This food outlet is quite popular amongst both, locals as well as tourists. Besides, the best thing about Yoogane is that the food you order is prepared on the spot which ensures a fresh and hot serving to you. Yoogane Dakgalbi has its two shops in Myeongdong.
Approx Cost
Anywhere between 8500 Korean Won to 10000 Korean Won
Address 
8 Myeongdong 4-gil, Myeongdong 2(i)-ga, Jung-gu, Seoul, South Korea

7-4 Myeongdong 10-gil, Myeongdong 2(i)-ga, Jung-gu, Seoul, South Korea
From restaurants, let's now jump on to the amazing and delectable delicacies that you can't afford to miss while in Myeongdong. 
What to eat in Myeongdong
Seaweed Soup
Wondering what to do in Myeongdong? What about having Seaweed Soup? Seaweed Soup is one of the most loved dishes in Korea. Locals love to eat it on their birthdays. It comes in an array of varieties that come with beef, halibut, clam, and more. The best time to eat Seaweed Soup is the breakfast time. Almost every Korean restaurant in Seoul serves this dish and some even serve it as a complementary side dish. 
Recommended Place to Eat
Bodol Seaweed
Approx Cost
Somewhere between 5000 Korean Won and 8000 Korean Won
Address
10 Myeongdong 8na-gil, Jung-gu, Seoul
If you're looking for incredible food and things to do don't miss exploring Insadong as well!**
Black Bean Noodles
If you are looking to satiate your afternoon hunger and that too with the best taste in Myeongdong, then there isn't a better dish than Black Bean Noodles. It is locally known as Jjajjang-myeon. You would be amazed to know that it is a Korean-style Chinese noodle which is topped with a thick sauce of diced pork, chungjang, and veggies. The Myeongdong region also houses the Chinese embassy. You can visit the areas as it is dotted with a number of Chinese restaurants that serve the best Black Bean Noodles in Seoul. 
Recommended Place to Eat
Gongxi Noodle Bar
Approx Cost
5000 Korean Won
Address
45 Myeongdong 2-gil, Jung-gu, Seoul
Kimchi
A staple Korean cuisine, Kimchi is a traditional side dish that includes fermented and salted vegetables including Korean radish, napa cabbage. It is prepared using an array of seasoning including spring onions, gochugaru, jeotgal, ginger, garlic, and more. If you really want to explore the Korean food culture, then Kimchi has to be on your list of delicacies to eat. One can say eating Kimchi is one of the best things to do not just in the Myeongdong region but in the entire city of Seoul.
Recommended Place to Eat
Myeongdong Gyoja
Approx Cost
Somewhere between 5000 Korean Won to 8000 Korean Won
Address
29 Myeongdong 10-gil, Jung-gu, Seoul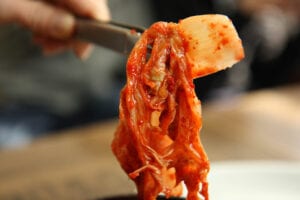 Myeongdong Street Food
Tteokbokki
Wondering what's that? Well, in simple language, Tteokbokki is a stir-fried rice cake which is one of the most-loved street foods not just in Myeondong but in entire Seoul. The dish comprises of rice cakes served in sweet, thick and spicy sauce. It is not at all hard to find food in Myeongdong, Seoul. Rather, you can find a stall just across the street. The dish is also known as ddeokbokki, teokbokki, and topokki. Depending on the vendors, Tteokbokki is served in a bowl with various ingredients such as noodles, eggs, cheese, or they are just served with a stick. 
Approx Cost
anywhere between 2000 Korean Won and 40000 Korean Won.
Twigim
Twigim is the Korean fried food that tastes delectably good. This is just like Japanese tempura. The dish is an amalgamation of vegetable slices, dumplings, and even rolls of Kimbap soaked in a batter and then deep-fried till the color of them turns golden brown. A bottle of beer complement best to these Korean fried foods. Just to let you know, Twigim comes in the set so that you can relish the taste of each variety of Twigim. 
Approx Cost
Somewhere between 500 Korean Won and 1000 Korean Won
Soondae
Soondae is basically Koran Blood Sausage. Though the dish doesn't appeal in appearance but it tastes extremely delicious. Soondae has a long-prevailing history in the food culture of Korea and it dates back to the Goryeo period. Though during that ingredients were different. But the modern Soondae includes blood, glass noodle, and vegetables. Some vendors even add perilla leaves, sprouts, scallion, and soybean paste that just enhances the texture and taste of the dish. It is an affordable food in Myeongdong which you can easily find across the street. 
Approx Cost
6000 Korean Won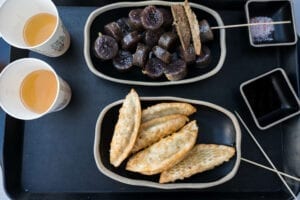 Mandu
Are you a fan of dumplings? Well, I love dumplings, especially the ones that I eat in Myeongdong, Seoul. Mandy (Korean dumplings) has been an integral part of the Korean royal court's culinary art and the history of this must-try food in Seoul dates back to the 14th century. In Myeongdong, you can find Mandu in supermarkets and in street stalls. Korean dumplings come in different varieties ranging from boiled, deep-fried,  pan-fried and even steamed. The shapes are different at almost every stall, some even resemble Chinese baozi or Japanese gyoza. 
Approx Cost
3000 Korean Won for 3 Pieces
Odeng
Ever had a fish cake? If not, then we must try Odeng. They are basically the Korean fish cake. However, the name derived from the Japanese word 'Oden'. Talking about this delectable food to eat in Myeongdong, Oden is one of the most widely sold and most-loved Korean street food snacks. This dish is skewed and boiled in a spicy soup. One of the best things about having Odeng is that the price of the dish depends upon the number of fish cake pieces you eat. On a chilly night, this is indeed one of the best dishes to warm you up. You can eat it either at the stall itself or can also ask them for a takeaway cup.
Dakkochi 
Dakkochi is my favorite dish from Myeongdong, Seoul. After all, it is grilled chicken on a stick. If you are a chicken lover, then there is no chance you're not going to love this food in Myeongdong. Dakkochi is served as the small chicken pieces skewered together with veggies in between two pieces and then they're brushed with a layer of sauce before putting the stick on to the charcoal grill. The enticing aroma of chicken on the charcoal is enough to make you try this dish. Besides, such is the popularity of Dakkochi that you can expect to find it easily at any stall down the street. The best thing about Dakkochi is that each stall serves their own sauce, hence can expect to relish an array of flavors. 
Approx Cost
2000 Korean Won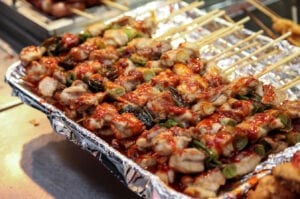 There is much more to relish in Myeongdong and you should better know that. Therefore, I would also recommend you to be open about trying other delicacies as well while strolling on the streets of Myeongdong. Besides, if you are planning your first trip to Seoul, then here are some travel essentials that we recommend you to carry in order to make your tour hassle-free. 
**PIN IT**