Alright, so you are looking to plan some shopping in Myeongdong. Well, I would say that's probably one of the best things you'll be doing on your Seoul vacation. And I always say and believe that no vacation is ever complete without some shopping. I mean let's be honest for a moment, who doesn't love to buy new stuff? Whether you've explored the city on your previous vacation to South Korea or if it is your first trip to Seoul, Myeongdong and Insadong are one of those tourist places where you can just go crazy. After all, such is the charm of this place when it comes to shopping. Want to know what Myeongdong has in its fold for all the shopaholics? If so, then keep scrolling and continue reading!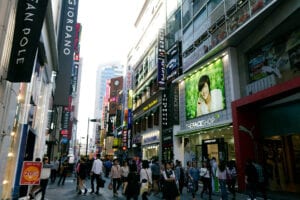 WHAT TO BUY IN MYEONGDONG
Myeongdong skincare shops and Cosmetic Products
If you don't know much about Myeongdong shopping street, then let me tell you it is arguably the best place to shop for skincare and cosmetic products. This bustling district is dotted with hundreds of high-end retail shops and stores like that of Lotte Department Store and Shinsegae Department Store. You would be amazed to know that millions of people walk down Myeongdong street every day. Out of all, a healthy chunk of people come here to shop, mainly the Korean skincare and cosmetic products that are sold by retail shops and street vendors. If you think that these products will be a bit more expensive, then let me correct you, here you can find category range from high-end to bargain goodies. Besides, some of the permanent shops have their own brands that you may want to purchase. Some of the top brands that you can expect to find here are Innisfree, Skin Food, Aritaum, Nature Republic, Primera, and Too Cool For School.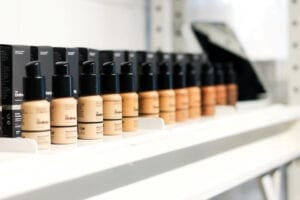 Fashion

 
The best part about Myeongdong shopping is that you get some of the best clothes here. Myeongdong Shopping district is crammed with tons of shops selling fashion products ranging from clothes, socks to accessories. The designs and patterns of these goods are distinct and appealing to the eyes. Besides, the quality also remains up to the mark. There is no doubt that you would splurge in Myeongdong if you are a real fashionista. Talking about the prices, they are quite affordable. Some of the best fashion stores where you should go are Shinsegae Myeongdong, Lotte Department Store, Zara Myeongdong, ABC Mart, Who.A.U, 8 Seconds, H&M, and Uniqlo. In order to more and more customers, these stores always give heavy discounts on the listing products. 
Myeongdong Souvenirs
Well, no shopping tour at a foreign destination is ever completed without souvenirs. If you are looking for great souvenirs in Seoul, then head to the Myeongdong region. Here you can get a wide range of products to gift them as souvenirs for your friends and family. There are night market stalls that sell various goodies like K-pop merchandise, handicrafts, socks, and much more. Apart from that, the region is also dotted with hundreds of shops selling amazing stuff like mugs, bags, Jeju green tea, and much more. Some of the best places to go while on a Myeongdong, Korea shopping tour are Kakao Store Myeongdong, Line Store, Artbox Myeongdong, and Daiso Myeongdong.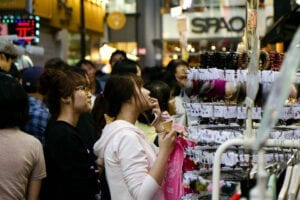 Street Food Shopping in Myeongdong
Let's be honest, shopping in South Korea is at all appealing without the delectable and cheap Korean food? Obviously not! Hence, in this shopping guide also, I recommend you also explore the Korean food culture in more than just Hongdae and Itaewon but also on the streets of Myeongdong. Trust me, if you are on a budget trip, then you can savor the best cheap eats in Myeongdong. There are tons of street food stalls that serve some of the most strange and the most internationally-known Korean dishes including kalguksu, kimchi, seaweed soup, black bean noodles, and more.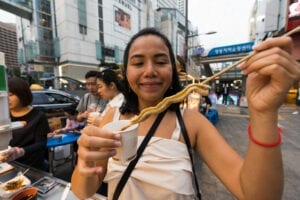 POPULAR STORES IN MYEONGDONG 
Daiso Myeongdong
Daiso is indeed one of the shopping stores to check out on Myeongdong Shopping Street. The store is known for selling the cutest stuff that ranges from snacks to souvenirs and stationery, but definitely not just restricted to these. One of the things that I like the most here is the big reusable bag. It will help you avoid a lot of plastic bags on your shopping tour in Myeongdong. Just to let you know, Daiso is one of the cheapest stores in the region.
Address
134-1, Jung-gu, Seoul, South Korea
Operating Hours
Sunday to Saturday from 10:00 AM to 10:00 PM
Line Store
I am assuming, you're using WhatsApp to send and receive your day to day messages from friends and family. But in South Korea, people use Line as the main messaging app. This store is dedicated to the Line App. The app includes some of the cutest characters which can see at this store. The cutest and most in-demand character of all is Brown. You can expect a big queue of people just to take a selfie with this cute character. Besides, the shop also sells souvenirs like cute mugs, socks, and bags. 
Address
53-16 Myeongdong 2(i)-ga, Jung-gu, Seoul, South Korea
Operating Hours
Sunday to Saturday from 10:00 AM to 11:00 PM
Artbox Myeongdong
Often touted as the upscale version of Daiso This 3-floor Artbox store in Myeongdong, Korea is quite huge and spacious. As the name itself says, the store sells some of the most unique items ranging from stationery to notebooks to phone accessories to figurines. Along with that, you can also purchase home decoration items and character merchandise (like that of Line Store) from the Artbox store. If compare to Daiso, Artbox is quite expensive but totally worth it. This is one of those places where you can definitely expect to get some amazing gifts for your dear ones. 
Address
26-1 Myeong-dong, Jung-gu, Seoul, South Korea
Operating Hours
Sunday to Saturday from 11:00 AM to 10:30 PM
Kakao Store Myeongdong
People in South Korea are mad for both Line and Kakao characters and this store is all about that. Doesn't matter if you are a Line person, a visit to this store is still one of the best things to do that you should look to include on your Myeongdong shopping guide. Peach is one of the most loved characters on the app and it can be seen here at this store. 
Address
162 Yanghwa-ro, Seogyo-dong, Mapo-gu, Seoul, South Korea
Operating Hours
Sunday to Saturday from 10:00 AM to 10:30 PM
We really hope this shopping guide to Myeongdong will help you get some amazing stuff to take it back home for your friends and family. Don't forget Seoul is known for its shopping so make sure you check out places like Itaewon and Hongdae as well. Here we are also recommending the travel essentials that we carry on our every vacation. These essentials help us make our every trip hassle-free. You can also consider taking these stuff with you on your tours to ensure a safe and secure vacation time to a new and unfamiliar destination. 
**PIN IT**